Google Docs is an excellent writing tool that has numerous features, some of which are hidden such as the research tool. This tool comes in handy when you need to automatically insert appropriate citations/references for your research paper. In manuscript preparation or grant writing, managing citations is an essential component. Presently, Google Docs doesn't have the interface with any citation management software options that people use commonly. Nevertheless, Google Docs has a way it handles references.
Adding references

When you add or create a document in Google Docs without references, the easiest method to add references is by using the two window solution. However, there is another way to find and add references to research papers in Google Docs.
Step 1

After your browser is fired up, go over to Google Docs and open the document in question. At the bottom right of the current window, click the Explore icon and a panel will open up on the right. Also, you will find this option embedded in the tools. Therefore, click Tools > Explore.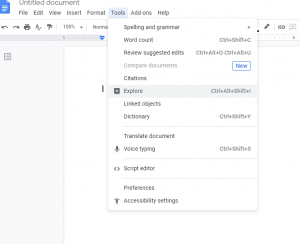 Alternatively, you can press the Ctrl + Alt + Shift + I on your Windows or Chrome OS as a keyboard shortcut.
Note that Explore acts like the Google Assistant to your documents. When you click the Explore button, it aligns your documents to similar or related topics so as to speed up your web search.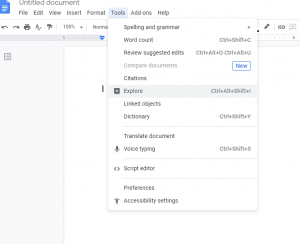 Step 2

At this point, if Explore doesn't find anything related to your document, then you have to type in the search bar whatever citations you are looking for and press Enter button. This will initiate a manual web search.
Step 3

On the current window showing web search results, click on the three dots on the top right and select what style of citation you would like to use. The available options are APA, MLA and the Chicago styles.
Step 4

Next, you have to highlight the text and put the text cursor to the place where you intend to add your reference to. Hover over your search results within the Explore panel and then select the Cite as Footnote button that appears.
Step 5

After you have clicked the icon, Google Docs will automatically number the reference/citation and cite this link as a footnote of the page.
You can add as many references as you need by redoing the search and then clicking the Cite as Footnote icon next to every search result. By doing so, Google Docs will automatically put citations for your document.
The bottom line

Note that when you click Cite as Footnote, it creates a footnote reference perfectly at the bottom of your document page. On the other hand, if you click Insert, it will cite the reference source in the form of a bibliography. You can change the format of your references by clicking the arrow below the search bar. In Google Docs, therefore, the research sidebar offers an excellent way of finding studies and academic research papers on multiple subjects.