On the greatest feature of Google Docs is that it backs up your work and keeps it safe in your Google account. The other is the ability to share and collaborate on the work with co-workers or classmates. Google Docs can also protect your work and make it known that it is your work by allowing you to sign documents.
Signing your documents with your real signature is possible in Google Docs. There is no straight forward feature for signing in to Google Docs. It involves working around in Google Docs, and this article is a step by step guide of how you can do it. Follow the following steps carefully, and you will be able to create your signature easily.
 Step 1:

Open google drive, sign in, and choose a document or import from your computer and open it using Google Docs.
Step 2:

After your document has opened, take the cursor to the signing area, where the signature will appear once you are done. Then go to the menu bar and click on the Insert tab. On the dropdown menu that appears, toggle the mouse pointer on the "Drawing" option and select "New."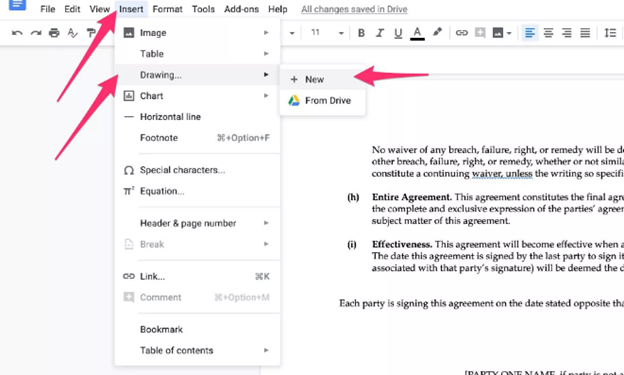 Step 3:

A drawing canvas will pop up with icons appearing above the canvas. Click on the small arrow down. It is next to the "Line" tool. On the dropdown menu that appears, select the last option Scribble.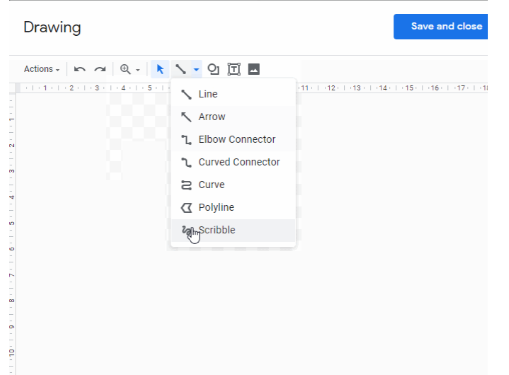 Step 4:

The mouse pointer will change when you choose scribble. Using your mouse, scribble your signature on the canvas. Use the Undo Arrow to try again and try as many times as possible to sign the perfect one. Choose the appropriate line weight in the "Line Weight" tool to ensure your signature is clear and drawn well. When done, click Save and Close.
Step 5:

In your document, the signature will appear as an image. You can resize it to fit at the place that requires the signature. If your cursor was not in the right place, you could drag the image to the right location.
Another method involves using a third party service. This method uses DocuSign, a service you can get by downloading a Google Chrome extension called DocuSign Connector for Google Drive. You will use it to open your document in Google Drive.
Conclusion

Early on, in most cases signing documents online required printing, then signing and taking pictures to upload them. You could also just sign a document using your name only, but with the few steps in this article, you can use a real signature in your documents. This also saves the time of finding other third-party services to do the signature.
In other platforms that can access Google Docs, this process could be difficult; for example, using the mobile app, the insert option for inserting a drawing is not available. This method is therefore applicable using a computer. You can follow the steps and use the method when working with other Google Docs editors like Slides and Spreadsheets.